Carnival Fantasy 5 Night Cruise Departing July 11th 2013
Tweet
Cruise Info
Sailing for Carnival, Carnival Fantasy was built in 1990. Carnival Fantasy has a top sailing speed of 21 kn. Carnival Fantasy holds a total of 2052 passengers. is operated by a crew of 920. Ship Mate users have rated Carnival Fantasy a 3.5 out of 5.
Cruise Ship Tracker
Cruise Reviews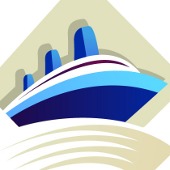 We just got off a 4 day cruise on the Fantasy. We docked in Key West and Cozumel. This was our first cruise, so we don't have anything to compare to. Almost everything was good. Our room was cleaned twice a day. Meals were good. Entertainment was good.The pool was way too small for so many people. It might be like this on all cruise ships though. Our only complaint was the elevators. There were 6 elevators. 4 were open and one of those broke down the day before we debarked. I heard that one of those was used for medical, which is understandable. I was just mentioning this, because we climbed a lot of flights of stairs all week. Once again it might be like this on all ships. All in all, it was a great, quick getaway for my husband and I. We would cruise the Fantasy again!
shellycole75, last Friday at 10:04 AM
This is our 4th cruise on Carnival in the last 12 months. I say that to qualify my thoughts about this cruise. The musical shows were the most amateur we have ever seen. All but two of the show personnel could not sing. The show personnel just seemed tired. The food was very good; however, on the last night of dinning, we were not served until after most had left. The crew was singing their goodbyes song and we were there waiting on our food. That was a first for us. The crew just felt like a Hodge podge of people. Some were super professional like our cruise director, and room crew, and others acted like it was their first day without training. The ship over all was in good shape for its age, but in some areas you can tell she is over 25 years old. Over all this was a very very unusual weird cruise.
rider7767, last Friday at 2:20 AM
Carnival Fantasy Cams