Crown Princess 14 Night Cruise Departing October 26th 2013
Tweet
Cruise Info
Sailing for Princess, Crown Princess was built in 2006. Crown Princess has a top sailing speed of 22 kn. Crown Princess holds a total of 3080 passengers. is operated by a crew of 1201. Ship Mate users have rated Crown Princess a 3.2 out of 5.
Cruise Ship Tracker
Cruise Reviews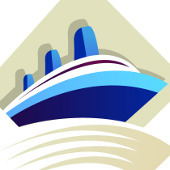 The best part of our trip was the location, Hawaii is just beautiful and the islands we went to were lovely.  On the cruise we enjoy wonderful new entertainment, great enrichment lectures, fun activities and great food.
wendellnbr, Yesterday at 1:35 PM
While this wasn't our favorite ship for a 10 day cruise, there was nothing seriously wrong.  We always enjoy sitting on the Promenade deck on lounges,  but there were none on this ship.  The chairs were not particularly comfortable for relaxing and there were not many of them.  The food on the buffets was almost always the same and seemed a little "stale".  We always look forward to the chilled soups at dinner and this time what was listed as soup was served in a glass with a straw!  Not our idea of soup.  The dining room was exceptionally noisy also. We enjoy the shows in the main theater, but as always, it was so LOUD we had to use earplugs.  Can't the sound level be lowered??
hvkrod, 10/14/2016
Crown Princess Cams